Sale!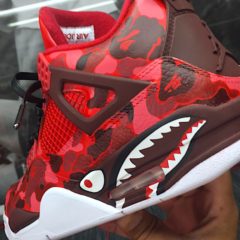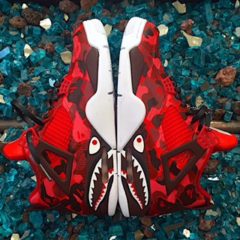 Bape Stencil Complete Pack – Camo Bape + Shark Face Stencils
Create your own Bape custom pair of shoes using this simple Bape Stencil pack!
Mix and match the Bape stencils that you need to create your own custom. The shoes pictured used the Full Bape Stencil Pack. If you would like to get the same design as the shoes pictured, we recommend purchasing the Full Bape Stencil Pack. Create your own custom by simply applying the stencils and painting!
– Applicable on other items besides shoes. Ideal for flat surfaces. Can even be used as stickers!
– Can be either hand painted or airbrushed.
– Tutorial on how to make these shoes below!
– Transfer tape to help apply the stencils included.
Note: These stencils have a larger print than the "Bape x Supreme" stencil set on our site.
Shoe size 10 shown in pictures. Below are descriptions of each stencil.
All stencil packs come individually cut and includes transfer paper to help you apply the stencil. Here is a tutorial on how we made these Jordan 4 customs:

not rated
$

6.99 –

$

26.99
Select options
Sale!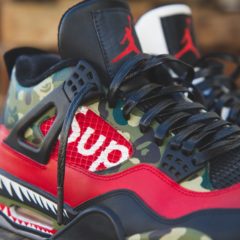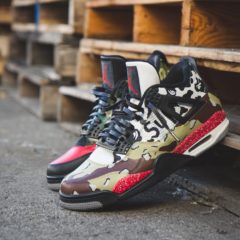 Bape x Supreme Stencil Set – Easy to Use Stencils to Customize Your Kicks!
Bape x Supreme Stencil sets are easy to apply stencils that you can place on your shoes or any other surface that you can place the stencil and paint!
Choose between 3 options:
– Bape stencils
– Supreme stencils
– Bape and Supreme stencil pack (choose this pack and save money!)
Below is a description of all you need to know.
————————————————————————————————————-
Bape Stencil Set
Note: These are smaller Bape logos made for the upper only. If you want larger Bape logos, compare to the Bape logos here before you make a decision:
BAPE STENCILS WITH SHARK FACE STENCIL PACK
This stencil set includes 10 Bape Ape vinyl stencils to help complete a professional Bape custom on your kicks. The Bape ape stencils are randomly selected to ensure you have a variety of the Camo images. There are about 3-4 different ape images so you will receive some duplicates. Save time and accurately paint Bape logos on your kicks!
To learn how to apply these stencils, check our Youtube tutorial below.
——————————————————————————————–
Supreme Stencil Set
You will receive 4 Supreme "Sup" logos for the netting area of the Jordan 4. These Sup logos have countless possibilities and can be applied in different positions on several other shoes. Get a clean Supreme box logo look and save time with these stencils!
If you are looking for the full Supreme Box logo stencil, click below:
FULL SUPREME BOX LOGO
——————————————————————————————–
Bape x Supreme Stencil Set:
In total, this stencil set includes 14 stencils. The stencils are a combination of the above stencil sets and helps you complete several possibilities in customizing your shoes. These are the same stencils we used to make the shoes pictured. Use them on one pair or split them into 2 or more kicks!
Learn how to customize your kicks with the quality and accuracy of the professionals!
To see how to apply stencils, scroll down below and check out our tutorial!
$

9.99 –

$

19.99
Select options