Welcome to the Kicks Gallery!
Here you'll find a variety of customs shoes & the stencils we used to create our customer's kicks! We use only premium products to complete our custom work and our sponsors Angelus Brand are a huge factor in producing quality work. We have stencils for sale if you would like to try the customs yourself! We require brand new shoes to create custom shoe orders.
If you would like to do the customs by yourself, we happily offer free custom tutorials at:
FEELGOOD THREADS CUSTOM TUTORIAL CHANNEL
We also offer stencils for you to get started on your next project here:
SHOP STENCILS HERE!
You can purchase paint supplies & customizing materials here:
CLICK HERE TO GET THE PAINTS & SUPPLIES!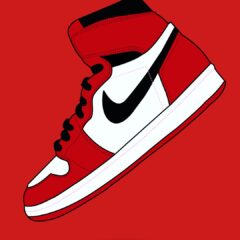 Air Jordan 1 High Reconstruction Course / Los Angeles Class / Dec 10-13
How many of you have wanted to create a shoe from the ground up and continue doing so after you're done with this class?
Feelgood Threads is now offering a 4 day exclusive Deconstruction and Reconstruction class on the classic Jordan 1 High! We want all students to receive the attention they deserve in reconstructing their shoes, so we will have only 4 limited spots in this class. That allows the Feelgood Team to carefully help students handcraft their Jordan 1.
Class is scheduled December 10 – 13 in Los Angeles, California.
In this class you will be personally instructed by Suheel (@feelgoodthreads) and learn how to:
– remove soles from an existing pair of Jordan 1 shoes
– learn how to use patterns to cut leather and fabrics to make your custom Jordan 1
– learn the basics of the post bed sewing machine
– apply your new sewing skills to sew your shoe upper
– learn how to apply footbed and last your shoes
– other best practices i.e. adding the wings logo and advanced techniques to help you in the future
– information on where to acquire tools needed to build your own Jordan 1 or other shoes
– we will be selling reconstruction tools on site, including sewing machines, patterns, etc. This way you are already accustomed to the tools we use in class and can confidently continue to gain experience outside of class
Reconstruct a classic Jordan 1 silhouette or get creative and make your own colorway!
No experience is necessary to enjoy this class.
At the end of the course, you will be walking away with your own hand crafted Jordan 1 High!
What's Included in the class?
– Closely supervised class hosted by Suheel (@Feelgoodthreads)
– 1 pair of Jordan 1 base shoes for your sole
– Premium Leather & fabrics needed to construct your Jordan 1
– Instruction for sewing and using shoemaking-specific sewing machines
– Access to discounted shoemaking supplies, discounted Feelgood Threads products, promotions, and more!
– Future support and troubleshooting questions
By the time you finish this class you will have gained skills and knowledge to help you continue making shoes and take home a custom pair of sneakers made by you!
*This class is non-refundable
not rated
$

3,600.00
Add to cart
Sold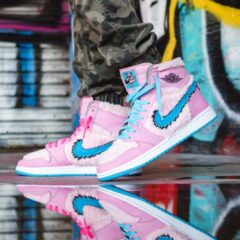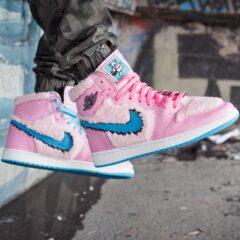 PREORDER JORDAN 1 HIGH GD LIMITED EDITION
Introducing the Jordan 1 High GD in 5 colorways!
We will contact you after purchase to get your size and color you would like. Please "ADD TO CART" and check out with a phone number and email address that is accessible to you.
Featuring custom dyed sherpa fabric to resemble bears fur combined with rich leather (or imported Italian suede), these custom shoes are created from the ground up.
They are a full reconstruction which can take several weeks to create.
We will only make a limited number of these customs.
We will be creating 5 different colorways
– Pink Bear
– Blue Bear
– Orange Bear
– Yellow Bear
– Green Bear
All of the customs will be made as a Jordan 1 High to resemble the highly sought after Nike SB Dunk Lows pictured (the 3 SB Dunk lows were only made in yellow, green and orange as shown on this page. We will remake these 3 in our own version along with our own versions of the blue and pink bears). Please note that artistically we will put our spin on this rendition and may change some colors like threads or other minor details, but they will be created in the same manner as the Pink Bear Jordan 1s we have pictured.
Additional details include:
– Italian imported suede or rich leather
– Custom embroidered tags
– Custom insoles
– Zigzag detailed stitching
– Mismatching laces
We are selling a customization service. Within the cost of the service, we will source the appropriate shoe size ordered. It is important to keep in mind that the sole may not be exactly the same color as the SB Dunk low soles pictured, but we will try our best to source the closest sole color that we can find. If the sole color is not close to the ones resembling the SB Dunk low, we will contact you to advise and find an alternate color sole. It is up to the discretion of Feelgood Threads to find the best matching soles for your project.
We do not offer refunds or exchanges, all sales on made to order shoes are final. Turnaround time is 4-6 weeks from when the shoes are received. Expedited orders are available for an additional fee.
Please email info@shopfeelgood.com for rush delivery or any questions in regards to your order.
not rated
Select options